Entries
We do not trade candles. We trade the market makers cycle from peak to peak. As a recap, the following is a brief summary about entries and trades to take, which we discussed in earlier chapters:
Our first entry is on confirmation candle appearing on second leg of the peak
Out second entry is on ID50. This is the first pullback to the 50 ema that the dealer does coming from peak
Now that we know how London setups form, then it means we already know that our entries should be at 200 or 50 ema depending with which London pattern will form on that day. This is safety trade
Another entry is 5/13 ema cross either on 15mins or 1hr time frame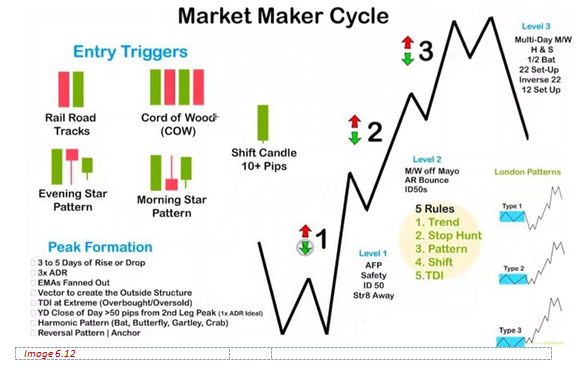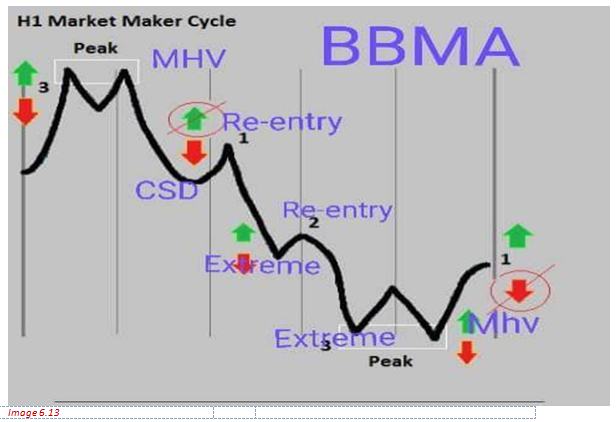 There are several ways to enter a pair and these are facilitated by a number of methods, which include the following:
Visual Eye
There is no indicator that is better than you. At the appearance of a second leg you have got to take the chance and jump into the trade. At the appearance of a confirmation candle you have got to take the chance and jump into the trade. However, not everyone is as sharp on this method and so we train people to rely on indicators for entries, which is what will be covered in 2 & 3
TDI
You are all familiar with the Traders Dynamic index. But then how do we use it to identify entries. Here is how:
When green line crosses the red line, this is an entry signal at any time frame
When the green line crosses the yellow line, this is an entry signal at any time frame.
This is shown in image 6.14
Still on TDI, here are further examples: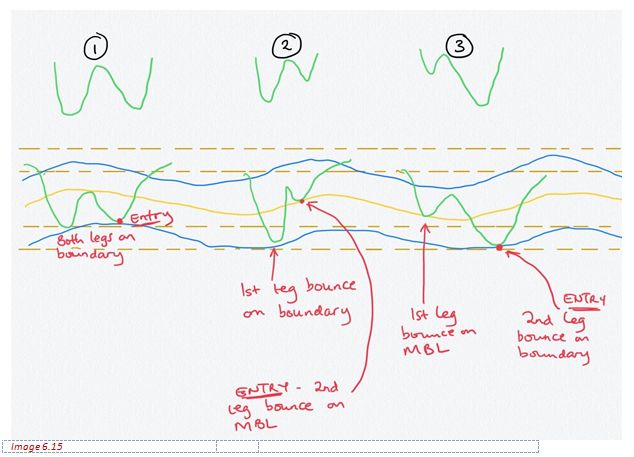 W or M type one has equal legs on candles, so your TDI will appear with equal legs bouncing on "boundary" of Your entry is at the appearance of the second leg bounce on TDI boundaryOK, the drawing may not be that perfect to represent the actual lines on the TDI so here is an explanation for images 6.15 and image 6.16 above:
W or M type 2 has a longer first leg and short second leg. Second leg bounces on MBL and becomes your entry point on MBL bounce
W or M type 3 first leg is shorter and second leg longer and TDI takes the same shape.
Now from these two I have said, most cases the second leg is the one that bounces on MBL so wait for the MBL bounce for entry
W or M type 4 is when a pair moves out of Asian session and moves down or up and formed LOD or HOD. The last leg is longer than them all but on the TDI it is the one that bounces on MBL
Type 5 is a head and shoulder peak formation and the second shoulder always bounces on MBL
Here are examples from the charts.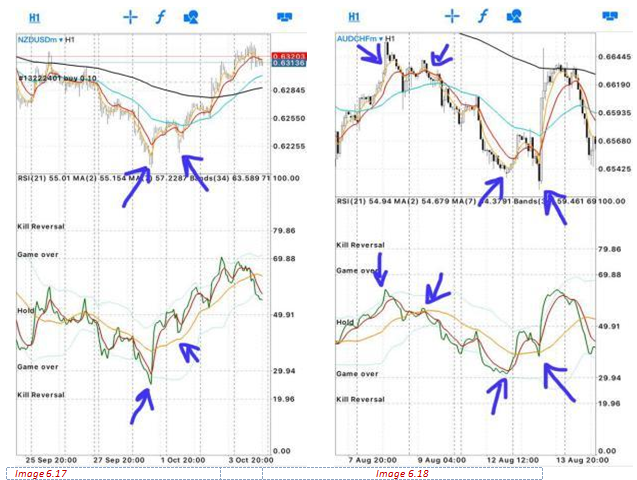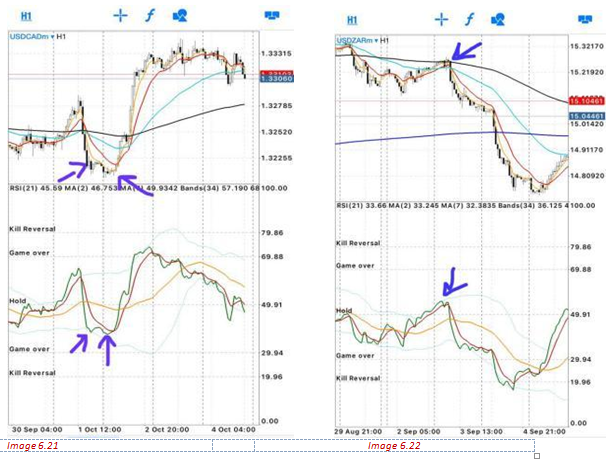 These are TDI entries. Take note that these mostly apply to Peaks though they can be used even on intraday. Remember that most of our entries are on intraday, so if we want to enter on a M15 then this is a key figure??????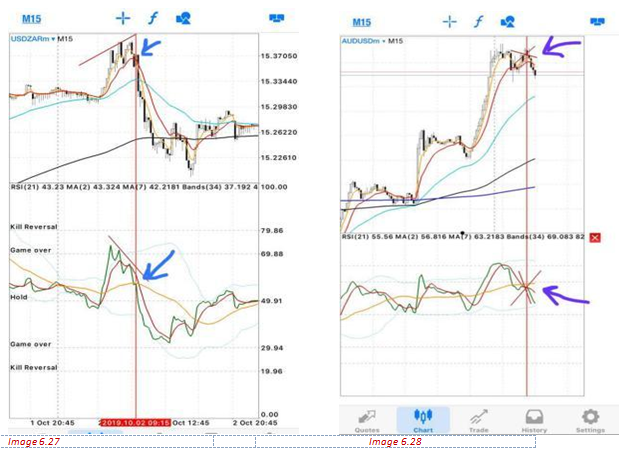 Always enter when PL crosses MBL Line or pullback to bounce on MBL. It will look like the TDI has moved but the candles are still in one place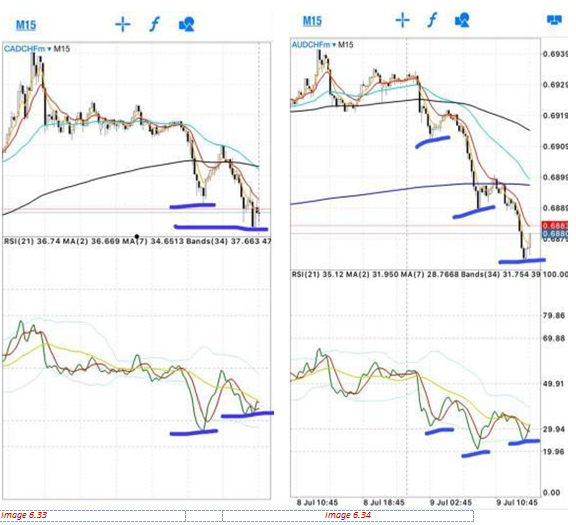 This is another way of taking your money. First leg is short but on TDI it is long. Second leg is long but on TDI it Is short. That is why we say enter on second leg.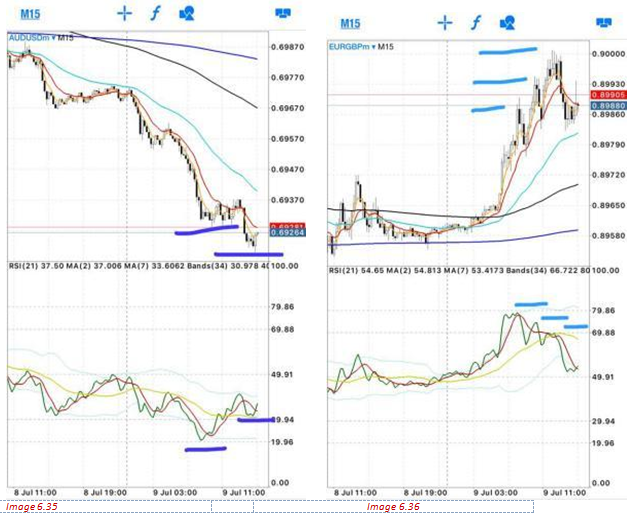 Second leg bouncing on MBL, but its longer than first leg yet shorter on TDI. You have candle uptrend, but your TDI is downtrend. Sniper entry is always second leg. That is why we will be saying "wait they will push down one more time". It is because the first leg should be longer so that the second leg will be shorter yet longer on candles.
EMAs
EMAs assist us on Entries but they work in a special way. EMAs work on their own independently or combined with TDI
EMAs working independently
We have entries such as these:
5/13 cross
pull to the 200/ 50 EMA safety trade
50/800 cross which shows a strong trend continuation.
Pull to the 50 EMA in ID50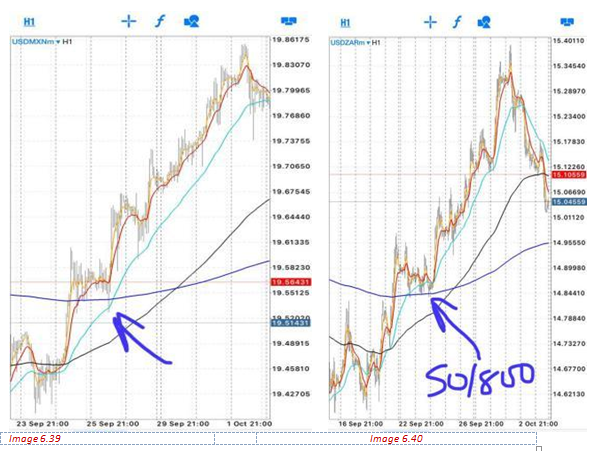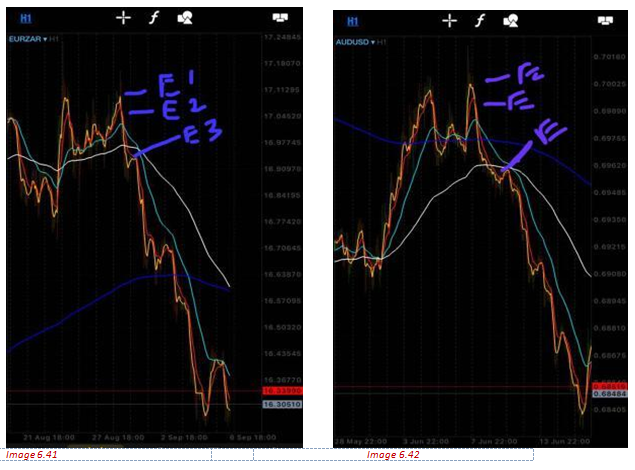 We have already discussed ID50 and Safety Trade in greater detail.
EMAs working with TDI.
This is so simple and happens when you expect reversals of a pair. A bounce on EMA and a bounce on boundary at the same time means a reversal. Mostly we focus on 200ema and 800ema and 50ema
Confirmation candles
Confirmation candles are found on second legs of our W's and M's. These are what we use for entries. We do not chase candles and I repeat we do not chase candles. There is always a good opportunity to enter. A confirmation candle is what gives you a valid move of a pair and you enter with ease and hold for as long as you want. Confirmation candles tell us that they are done building the M's and W's.
We have the following confirmation candles:
Railroad
Cow
Morning star
Evening star
Hanging man or shooting star
Our entry is on confirmation candle appearing on second leg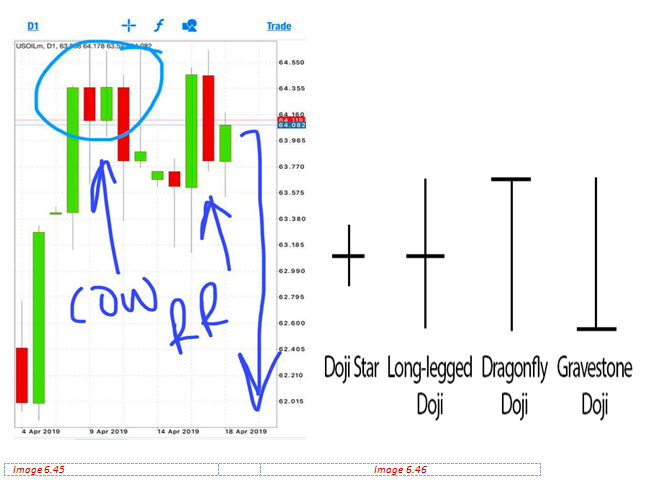 This W (image 6.47) has a rail road on the first leg and doji on the second leg. Image 6.48 has a doji on the first leg and a shooting star on the second leg. The doji pattern is illustrated in image 6.46.
Now this is where you enter them: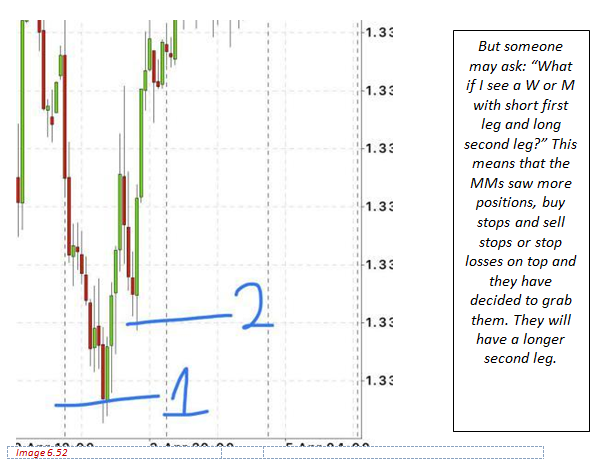 You enter when the second leg comes to at least the same level or beyond the first leg. This is what will give you assurance that they are done collecting orders.