Psychology and Risk Management
Forex is 50% winning psychology, 20% strategy and 30% money management. 90% of FX traders are greedy that is why they blow accounts in no time. The trading psychology includes greed, fear, patience, confidence and discipline. Once you have conquered these, you will have a successful trading career.
Forex is not a get rich quick business. In forex, you learn to grow your account. In forex, every strategy is good and none is bad. You just have to stick with the rules and you make money. In forex, you lose and you win. Many losses in forex come from bad risk management and greed.
Do you remember the image below which first came in chapter 5? If you didn't figure out what it means then we will briefly touch it in this chapter as a trading register. The image simply shows the number of pairs that you are watching (first row) and the stages that the pairs will be going through (first column). As a trader, you should always have information of where your pairs are so that you know when to trade or exit. This is what the image represents. You do not have to look at the charts all the time!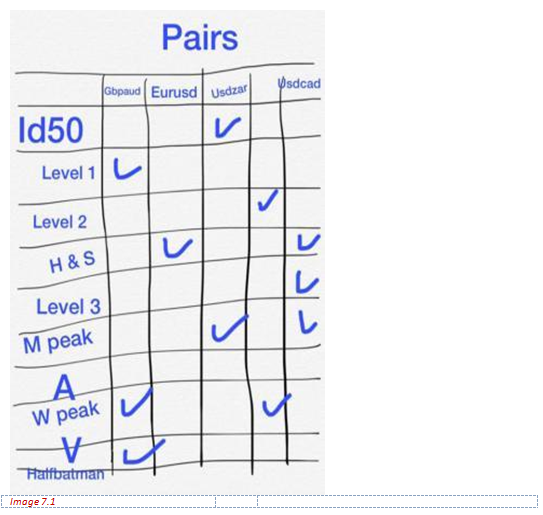 You will not believe how much I lost in trying to make this work. Most of you read what I teach but you are scared the moment you see candles. Now I am making money and candle movements do not even worry me an inch. If you not ready to commit funds in forex, then you are in the wrong market. You are learning but you do what is against what you learn. Here are some pointers to help you:
Use a demo account and see if what I teach you is real and true. You are scared because you are using real money. Switch to demo account or rather trade both.
You baby sit candles too much. You do not want to see your positions in red.
You use too big lot sizes such that a small reversal makes you start crying
You assume broker will do this and that so you ignore market behaviours
You want to be rich quick. You even close positions so early and you scared to hold even for more profits.
You cannot even close your MT4/5 and do other things because you are scared what if it reverses, you do not trust your analysis.
Dealer tactics
One thing he does is, the moment you open a position he starts to hunt for stops and clear them out before he moves your way. So, when you enter a position, wait before entering a stop loss, until you are satisfied to be in profit.

OR
always use a stop loss of 25-30pips away from your entry and move it as he goes your way.
He can open London session by crazily going your way and reverse in the New York open to cause panic and then go your way after taking you out.
He can open London session with consolidation up to the end and start moving your way during New York. Making you tired and close on a loss.
He can move a pair during Asian, then hold the rest of London and New York and start to move it tomorrow London.
He can hold the whole day or two and move the next day.
He can move pairs during New York only while consolidating during London and Asian.
Yes, sometimes they act like they know you have entered a position. Do not panic or lose out, relax. He is testing your emotions. All these tricks are done to pocket your money.
Things to look out for:
Do not trade until the dealer hits the stops
Be careful of a false breakout of the Asian session
Do not spend a lot of time looking at the charts because they will deceive you
The dealer should not induce you to enter a trade
The dealer should not dictate your trading day
We do not do guess work. We have a reason for every move that we do. We should know when moves are to take place. Remember these simple hints:
Don't trade until the dealer burns the fricking stops!!
Trade away from the peak, and you have 1 set per week per pair, maybe 2
Fast move in forex is false
Understand the deeper meaning of the pattern I'm showing you and why it happens
No indicator can replace your ability to identify the pattern and the count
No setup = No trade!!
Here is the truth about forex. Market Makers cannot move every pair. If they were to do that then everyone would be rich by now. We have what we call disparity of pairs, whereby sometimes you see Gold moving the same with EURUSD or EURGBP moving the same with GBPCAD
All this is done to hold money on some pairs while releasing on others at the same time to confuse you into selling EURGBP & GBPCAD so that you win on one and lose on another. With that in mind, market makers do move majors against crosses. Majors include exotics and other pairs such as EURUSD, EURGBP, GBPUSD and mostly those pairs that have powerful currencies in combination. Crosses are pairs that have JPY, CHF, NZD etc etc.
When they decide to move major pairs during London session, they hold crosses in consolidation and this can run even for a whole week. Once they start to consolidate the majors, they move the crosses away. So, pairs that go on stop hunts will show you which pairs will move. We should therefore hunt for pairs that stop hunt. If majors throw stop hunts at us then we trade the majors and vice versa.
Golden Rules
Your forex account will never grow to the figure you want. Do you know why, because each time when you feel like you have made it, you always increase lot size, start overtrading because you will be thinking you are now making it and thinking you will always win and keep winning.
Rule 1 – When you triple your account, WITHDRAW the capital you planted and start trading your profits.
Rule 2 – Every week, no matter what profit you make, withdraw it and keep it on your Skrill account and remain with the float you want to trade with.
This will help you to always:
– keep you lot size at minimum
– teach you patience
– give you the boost to master the skill of growing an account the right away.
Rule 3 – Always withdraw a small profit just to spend during the weekend. It can be 5 Skrill or less.
– This will motivate your trading skill
– Make you desire to go back in the market and trade again.
Rule 4 – Do not trade more than 2 pairs at once on your account, no matter how easy the market is on that day.
Rule 5 – Last rule I will always say you will not win always. When they hit your stop loss do not trade again. Wait and check if there are more setups on OTHER pairs. Do not chase one pair. If possible, on a bad day stay away from the market after making a loss. Sometimes the market has to remind you that you don't own it.
Always remember this: "dealer haana kupusa (the dealer is not an idiot)". He knows all indicators in forex. All strategies so he plays around with indicators to fool you into believing it works. He will get into the oversold zone with first leg and hold the level. By so doing he is accumulating orders. While buyers join in, he will pull away second push and hold level and he will do it the third time while hitting stops and moving away. This becomes a trap to many.
Now understand that as much as we have 3days of rise, the dealer also has 3 pushes during intraday. On that third push is when many get convinced of a sell and the dealer reverses on them to end the day and BOOM he has more money at the end of the day.